2014 May 31: Breather Fun
Updated:
First entry|Previous entry|Next entry|Last entry
---
This entry is extracted from a series of email exchanges between myself, Charlie Mullendore of Antietam Classic Cycle and Gordon Kline of MG Cycle. Both Charlie and Gordon were very supportive and helpful.
Hi Gordon & Charlie,
Gordon, I took your advice and decided to go super simple with the breather on my Convert: No breather at all - just a long tube exiting the large pipe on top of the bell housing. The attached photo shows the overall length and routing (stayed nicely out of my way throughout the testing). I simply capped off the small return line at the bell housing.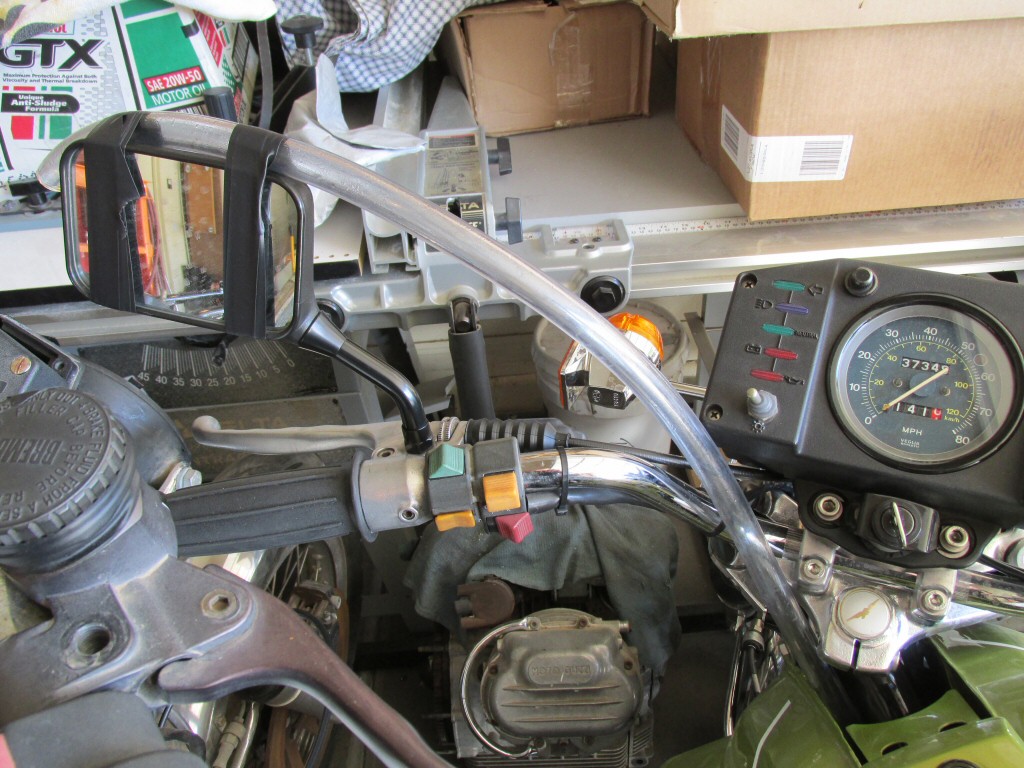 All was fine and well from the moment I left my house until I got on the interstate. Then, I started to see very mild oil condensation on the inside of the tube (I stopped and made sure it was oil, not water). I was not worried about this mild oil condensation.
Next, I ran it hard up hills (90+ MPH indicated/estimated on my 80 MPH speedometer). That is when I started to see waves of oil migrating up the tube. The tube was not full of oil, but the waves of oil that had condensed on the sides of the tube were definitely migrating toward the end of the tube. That ended my testing and I took it easy on the way back home (70 MPH). If I had continued, the waves would have exited the tube and made an awful mess.
The waves are the same thing I saw when I had the loop frame-style breather hooked up with a clear line run as a belch tube (using an identical testing procedure). I had originally thought that the breather had completely filled with oil and waves were what was being pushed out. Now I'm not so sure. I suspect that the new breathers do not have any sort of wire mesh inside of them like the originals (though I have never cut open a new one to check). Perhaps the oil was being carried via the wind-path inside the breather with very little condensation. Perhaps I just need condensing material. I wish the breather box did not require cutting to open it, but I suppose that is the next step in my quest to actually be able to operate the Convert on anything but slow back roads. There is too much space out west not to be able to run it like I stole it.
As always, comments and thoughts are welcome.
Regards,
Gregory Bender
Charlie's reply to Gregory:
Interesting. I forget - do you have a sump spacer of any sort installed? If you'd like to try one, I'll be removing the one from the Cal II engine I bought for my sidecar rig project.
Gregory's reply to Charlie:
Hi Charlie,
I've got a sump space with windage plate installed...no need to try yours :>
Regards,
Gregory Bender
Gordon's reply:
That's a bummer Greg, I was hoping you'd see something else, but hopefully it wasn't a total waste of time. I'm tempted to cut into a new breather to have a look inside, maybe I'll do that if we have a good supply in stock. It's been awhile since we all talked about this problem, and we've forgotten some details, so like Charlie (I'm pretty sure he has the sump extender with the windage tray installed), I'll ask something again - how many miles do you have on those cylinders and pistons? I can't help but think the problem isn't just a marginal breather system, and I remember coming to this a year ago or whenever we all talked about it. I mean really, how many other motors suffer this problem? Not that many. The majority do not. Yeah, it's not the best system and it's been improved over the years but still, the majority don't suffer. Those outside of extreme service do not, and I don't think a Convert pulling hills at top speed and full throttle qualifies as extreme service unless there's an underlying problem. Could it be that you're just not getting a good seal yet? Have we exhausted this path already? Have you pulled the jugs since they were installed? Maybe you did and everything looked fine. Somewhere around here I think I have a set of original iron G5 pist/cyls that I removed from my G5. I don't recall having any real problems with it, but treated it to a makeover at about 108,000 and gave it new Gilardonis. Assuming I can find them, you're welcome to try them out.
Gregory' reply to Gordon:
Hi Gordon,
The last time I talked about this - well over a year now - I was down to checking the pistons/cylinders/gaskets. They are nikasil with original pistons and new rings - not Gilardoni kits. I don't think I want to try iron cylinders. I probably should pull the cylinders and check, but my fear is that I won't find anything wrong and I'll be stuck right where I'm at.
As for checking the breather, I just inserted a small zip tie up in there and I could not feel any material at all. Certainly no wire mesh like the original. I'm going to cut it open and add some material. That oil has to condense on something other than the sides.
I'm pretty sure part of my problem is that I do not want to run the original breather. Were I to do so, I would simply burn any oil that got in there and never be aware of a breather problem (only oil usage/consumption). AFAIK, Guzzi introduced this set up to comply with EPA regulations.
I do know that I am pushing the Convert pretty hard: continuous high speed, 850 engine, automatic transmission.
More after I modify the breather...
Regards,
Gregory Bender
Charlie's reply:
Perhaps a leakdown test would give you an idea of ring seal without a teardown?
Is the Agostini breather still available? The larger volume and what I perceive as a better separation mechanism might help here.
Gregory's reply to Charlie:
Hi Charlie,
I probably ought to try another leak down test (can't remember what it was or where I recorded that information). Compression last year was around 145 PSI per side.
I do not think that the Agostini breather is available...might be better, though.
Regards,
Gregory Bender
Charlie's reply to Gregory:
Not inexpensive and not as large as I remembered.
Gregory's reply to Charlie:
Interesting. I'm going to try filling the box first, though.
---