Headlight gasket replacement
Moto Guzzi V700, V7 Special, Ambassador, 850 GT, 850 GT California, Eldorado, and 850 California Police models
Created:
Updated:
Screen door spline
I extracted this information from Mark Etheridge of Moto Guzzi Classics off of the old Topica Loopframe_Guzzi news group (which has now moved to Groups.io).
This is the gasket that fits between the headlight securing trim and the headlight itself. Just run down to your local hardware store and purchase a length of screen-door/screen-window vinyl spline. This is the piece that holds the screen in the sash's channel. Cut to length and you're done.
Charles Hamer informed me that the 0.19 inch diameter screening spline works better than the 0.16 inch diameter spline I have pictured.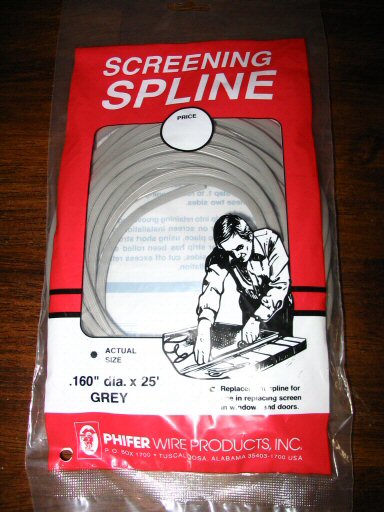 EPDM Rubber Cord
Thanks to Hayden for sending this information about EPDM Rubber Cord.
In Europe it is not easy to get the spline you mentioned in suitable thickness and in small amounts.

I found EPDM expanded foam. 1/4 of the price compared to ebay so I got 4 sizes to try out. The 4 mm dia is a snug fit, very neat and holds in place whilst fitting the lamp & shell. 5 mm does fit but puts up a fight. Has to be compressed a lot by the headlight. Long term it may be better as it compresses up to 90% apparently. Prepare EPDM with a fresh clean cut or by dipping in isopropyl alcohol & air dry. Breath on the end to get a bit of moisture then tiny touch of superglue. A lot of glue will make a hard seam joint. The joint is stronger than the sponge.