Condenser cross-reference
Moto Guzzi V700, V7 Special, Ambassador, 850 GT, 850 GT California, Eldorado, and 850 California Police models
Updated:
The condenser has the following part number cross references:
MG# 12715421

Magneti Marelli part number 56181103
Magneti Marelli part number CE 29 D
Magneti Marelli part number CE 36 E
Facet part number 0.0613
Fiat part number 9912723
Fiat part number 9942107
Kohler part number 230722-S

Thanks to Leon Karlak for sending me the information about the Kohler. In Leon's own words:

I needed to try and get a new condenser for my Eldorado somewhat quickly so, rather that call Joe Eish, I looked at your recommendations. I couldn't find NAPA's equivalent on their web site or anyone else's. The guy helping me do the job said lets use a Kohler condenser that he happened to have on the shelf. It seems like a great substitute. We took the condenser out of the bracket that came with it and turned it upside down in the bracket. Then we drilled a smaller hole in the bracket closer to the condenser and cut of some of the excess bracket off. Then finished by grinding the sharp edge off of the remaining bracket. This may be helpful for others.
The condenser has a Ø of 18 mm, a Length of 31.5 mm, and a µF of 0.25.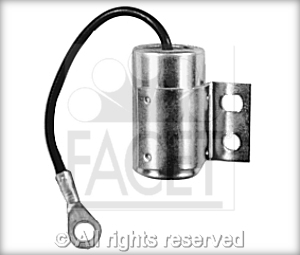 The condenser was used on the following vehicles:
| Make & Model | Engine | First Year | Last Year |
| --- | --- | --- | --- |
| Fiat 126 600 | 126 A.000 | | |
| Fiat 126 650 | 126 A1.048 | | |
| Fiat 128 1.1 | 128 A.000 | | |
| Fiat 128 Familiare 1.1 (AF) | 128 A.000 | | |
| Fiat 500 0.5 | 110 F.000 | | |
| Fiat 500 0.6 | -- | | |
| Fiat 600 0.6 | -- | | |
| Fiat Panda 650 | 141 A.000 | | |
| Fiat X 1/9 1.3 | 128 AS.000 | | |
| FSO 126P 0.6 | -- | | |
| FSO 126P 0.6 | -- | | |
| Zaztava Yugo 0.9 | -- | | |
Similar condensers (same µF) from Facet include the following:
Facet Part Number
µF
Diameter
Length
Manufacturer Part Number
Application

Facet part number 0.0127

Photo courtesy of Facet.

0.25µF

18 mm

Ø

31.5 mm

Bosch
1 217 330 037
1 237 330 037


Unknown

Facet part number 0.0179/114

Photo courtesy of Facet.

0.25µF

18 mm

Ø

31.5 mm

Bosch
1 237 330 329

FORD
1 584 306

FORD

| Model | Engine | First Year | Last Year |
| --- | --- | --- | --- |
| ESCORT III 1.1 | GSE | | |
| ESCORT III Familiare 1.1 | GSE | | |
| FIESTA I 0.9 | TKA, TKW | | |
| FIESTA I 0.9 | TLA | | |
| FIESTA I 1.1 | GLA | | |
| FIESTA I 1.1 (WFBT) | GLW | | |

Facet part number 0.0179/118

Photo courtesy of Facet.

0.25µF

18 mm

Ø

31.5 mm

Bosch
1 237 330 330
1 237 330 352

FORD
6 147 962

FORD

| Model | Engine | First Year | Last Year |
| --- | --- | --- | --- |
| CAPRI III 1.3 | J1E | | |
| TRANSIT 1.6 | LAC | | |
| TRANSIT 2.0 | NAW | | |
| TRANSIT 2.0 | NAX | | |
| TRANSIT Autobus 1.6 (TBL, TES) | LAT | | |
| TRANSIT Autobus 2.0 (TBS, TCL, TCS, TEL, TES) | NAT, NAV | | |
| TRANSIT Furgonato 1.6 (TAS) | LAT | | |
| TRANSIT Furgonato 2.0 (TAL, TAS, TGL, TWS) | NAT, NAV | | |
| TRANSIT Pianale piatto/Autotelaio 2.0 (TTE, TTL, TTS) | NAT, NAV | | |

FORD (AUS)

| Model | Engine | First Year | Last Year |
| --- | --- | --- | --- |
| Cortina_TF 2.0 | -- | | |
| Escort 2.0 | -- | | |
| Escort 2.0 RS | -- | | |

Facet part number 0.0179/124

Photo courtesy of Facet.

0.25µF

18 mm

Ø

31.5 mm

Bosch
1 237 330 339

VOLVO
1306223-7

VOLVO

| Model | Engine | First Year | Last Year |
| --- | --- | --- | --- |
| 240 1.8 | B 17 A | | |
| 240 Kombi 1.8 | B 17 A | | |

Facet part number 0.0188/1

Photo courtesy of Facet.

0.25µF

18 mm

Ø

31.5 mm

Unknown

ZASTAVA

| Model | Engine | First Year | Last Year |
| --- | --- | --- | --- |
| YUGO 0.9 | -- | | |

Facet part number 0.0253

Photo courtesy of Facet.

0.25µF

18 mm

Ø

31.5 mm

DANSI
422 192

GUZZI
19 708 620

MOTO GUZZI (I)

| Model | Engine | First Year | Last Year |
| --- | --- | --- | --- |
| V35II,V35Imola | -- | | on |
| V50III,V50Monza,V50C | -- | | on |
| V65;SP | -- | | on |

Facet part number 0.0262

Photo courtesy of Facet.

0.25µF

17 mm

Ø

31.5 mm

DELCO REMY
D-204

Unknown

Facet part number 0.0263

Photo courtesy of Facet.

0.25µF

17 mm

Ø

31.5 mm

DELCO REMY
1 869 704


Unknown

Facet part number 0.0291/17

Photo courtesy of Facet.

0.25µF

15 mm

Ø

25 mm

Fiat
553221600
6553221600

INNOCENTI

| Model | Engine | First Year | Last Year |
| --- | --- | --- | --- |
| 500 L; LS | -- | | on |

Facet part number 0.0291/20

Photo courtesy of Facet.

0.25µF

17 mm

Ø

25 mm

HOLDEN (AUS)
3326177090

SUZUKI
33261-77090

VOLKSWAGEN
J90 099 520 70

HOLDEN

| Model | Engine | First Year | Last Year |
| --- | --- | --- | --- |
| Scurry_NB 1.0 | F10A | | |

SUZUKI

| Model | Engine | First Year | Last Year |
| --- | --- | --- | --- |
| SK410 | -- | | |

VOLKSWAGEN

| Model | Engine | First Year | Last Year |
| --- | --- | --- | --- |
| TARO 1.8 | 2Y | | |
| TARO 2.2 | 4Y | | |

Facet part number 0.0390

Photo courtesy of Facet.

0.25µF

18 mm

Ø

31.5 mm

FEMSA
10249-30

Fiat
9936837

SEAT
SE 127914.007A

FIAT

| Model | Engine | First Year | Last Year |
| --- | --- | --- | --- |
| 127 0.9 | 100 GL.048 | | |
| 131 1.3 Mirafiori | 131 A6.000 | | |
| 131 Familiare/Panorama 1.3 Mirafiori (AF) | 131 A6.000 | | |
| 132 1.6 | -- | | |
| PANDA 800 | -- | | |

SEAT

| Model | Engine | First Year | Last Year |
| --- | --- | --- | --- |
| FURA 0.9 | -- | | |
| MARBELLA 0.8 | 08 NCA | | |
| MARBELLA Furgonato 0.8 | 08 NCA | | |
| PANDA 34 850 | -- | | |
| PANDA 35 850 | -- | | |

Facet part number 0.0392

Photo courtesy of Facet.

0.25µF

18 mm

Ø

31.5 mm

FEMSA
10249- 9

SEAT
SE 028914.007A
SE 141914.007B

SEAT

| Model | Engine | First Year | Last Year |
| --- | --- | --- | --- |
| IBIZA I 0.9 | 146 A 000 | | |
| IBIZA I 0.9 | 146 A 000 | | |
| MARBELLA 0.9 | 09 NCA | | |
| MARBELLA Furgonato 0.9 | 09 NCA | | |
| PANDA 40 | -- | | |
| PANDA 45 | -- | | |
| TERRA 0.9 | 09 NCA | | |

Facet part number 0.0397

Photo courtesy of Facet.

0.25µF

18 mm

Ø

31.5 mm

FEMSA
10249-43

RENAULT
77 02 124 317

RENAULT

| Model | Engine | First Year | Last Year |
| --- | --- | --- | --- |
| 4 0.8 (1123) | 800 01 | | |

Facet part number 0.0399

Photo courtesy of Facet.

0.25µF

18 mm

Ø

31.5 mm

FEMSA
10249-35

RENAULT
77 02 163 085

RENAULT

| Model | Engine | First Year | Last Year |
| --- | --- | --- | --- |
| 11 1.2 (B/C37S) | C1G 700, C1G 710 | | |
| 11 1.7 (B/C376) | F2N 700 | | |
| 11 Furgonato 1.2 (S37S) | C1G 700, C1G 710 | | |
| 4 1.1 (1128, S128) | 688 712 | | |
| 9 1.2 (L42S) | C1G 700, C1G 710 | | |
| EXPRESS 1.1 | C1E | | on |
| EXPRESS 955 | C1C | | on |

Facet part number 0.0471

Photo courtesy of Facet.

0.25µF

17 mm

Ø

31.5 mm

FORD
1 575 222

MOTORCRAFT
EDC 2

FORD

| Model | Engine | First Year | Last Year |
| --- | --- | --- | --- |
| CORTINA 1300 | -- | | |
| FIESTA I 0.9 | TKA, TKW | | |
| FIESTA I 0.9 | TLA | | |
| FIESTA I 1.3 | J3E | | |
| TAUNUS 80 Familiare 1.6 | LCJ | | |
| TAUNUS 80 1.6 | LCJ | | |
| TRANSIT Autobus 1.6 (VAS, VLS, VZS | 4RB | | |
| TRANSIT Autobus 2.0 (VAS, VBLVIL, VLS, VUL, VZS) | 4RC | | |
| TRANSIT Furgonato 1.6 (WS) | 4RB | | |
| TRANSIT Furgonato 2.0 (VVS) | 4RC | | |
| TRANSIT Pianale piatto/Autotelaio 2.0 (VGL, VSL, VTL) | 4RC | | |

Facet part number 0.0561

Photo courtesy of Facet.

0.25µF

17 mm

Ø

35 mm

LUCAS
400 308

Unknown

Facet part number 0.0602

Photo courtesy of Facet.

0.25µF

18 mm

Ø

31.5 mm

Fiat
9902578
9903303
9912722

Magneti Marelli
CE 29 B
CE 29 G

FIAT

| Model | Engine | First Year | Last Year |
| --- | --- | --- | --- |
| 1000er-Serie D, R | -- | | |
| 124 1200 (TA) | -- | | |
| 124 1400 Special | 124 B2.000 | | |
| 124 1600 Special T | -- | | |
| 124 Familiare 1200 | -- | | |
| 850 0.8 | -- | | |

Facet part number 0.0606

Photo courtesy of Facet.

0.25µF

18 mm

Ø

31.5 mm

Magneti Marelli
CE 29 A

Unknown

Facet part number 0.0608

Photo courtesy of Facet.

0.25µF

18 mm

Ø

31.5 mm

Magneti Marelli
CE 11 M
CE 29 Q

FSO

| Model | Engine | First Year | Last Year |
| --- | --- | --- | --- |
| POLONEZ I 1.5 | AA | | |

Facet part number 0.0612

Photo courtesy of Facet.

0.25µF

18 mm

Ø

31.5 mm

Fiat
9921499
9925255

Magneti Marelli
CE 36 G

FIAT

| Model | Engine | First Year | Last Year |
| --- | --- | --- | --- |
| 127 0.9 | 100 GL.000 | | |
| 131 1.3 Mirafiori | 131 A6.000 | | |
| 131 Familiare/Panorama 1.3 Mirafiori (AF) | 131 A6.000 | | |
| 132 1.6 | -- | | |
| 242-SERIE Autobus 1.6 | 124 B3.000 | | |
| 242-SERIE Furgonato 1.6 | 124 B3.000 | | |
| DUCATO Furgonato 1.8 | 169 B | | |

Facet part number 0.0613

Photo courtesy of Facet.

0.25µF

18 mm

Ø

31.5 mm

Fiat
9912723
9942107

Magneti Marelli
CE 29 D
CE 36 E

FIAT

| Model | Engine | First Year | Last Year |
| --- | --- | --- | --- |
| 126 600 | 126 A.000 | | |
| 126 650 | 126 A1.048 | | |
| 128 1.1 | 128 A.000 | | |
| 128 Familiare 1.1 (AF) | 128 A.000 | | |
| 500 0.5 | 110 F.000 | | |
| 500 0.6 | -- | | |
| 600 0.6 | -- | | |
| PANDA 650 | 141 A.000 | | |
| X 1/9 1.3 | 128 AS.000 | | |

FSO

| Model | Engine | First Year | Last Year |
| --- | --- | --- | --- |
| 126P 0.6 | -- | | |
| 126P 0.6 | -- | | |

ZASTAVA

| Model | Engine | First Year | Last Year |
| --- | --- | --- | --- |
| YUGO 0.9 | -- | | |

Facet part number 0.0614

Photo courtesy of Facet.

0.25µF

18 mm

Ø

31.5 mm

Fiat
9922454
9925263

Magneti Marelli
CE 36 L

FIAT

| Model | Engine | First Year | Last Year |
| --- | --- | --- | --- |
| 132 1.6 | -- | | |
| ARGENTA 1600 | 132 D.000 | | |

SEAT

| Model | Engine | First Year | Last Year |
| --- | --- | --- | --- |
| MARBELLA 0.8 | 08 NCA | | |
| MARBELLA Furgonato 0.8 | 08 NCA | | |

Facet part number 0.0617

Photo courtesy of Facet.

0.25µF

18 mm

Ø

25 mm

Fiat
9928245

Magneti Marelli
CE 22 B
CE 22 C
CE 39 A
CE 39 G

ALFA ROMEO

| Model | Engine | First Year | Last Year |
| --- | --- | --- | --- |
| ALFASUD 1.2 (901.D0, 901.D1) | AR 30102 | | |
| ALFETTA 1.8 | AR 01608 X | | |
| GIULIETTA 1.3 (116.44A) | AR 01644 | | |

FIAT

| Model | Engine | First Year | Last Year |
| --- | --- | --- | --- |
| 127 0.9 | 100 GL.048 | | |
| 127 1.0 | 127 A.000 | | |
| 127 Panorama 1.0 | 127 A.000 | | |
| 131 1.3 Mirafiori | 131 A6.000 | | |
| 131 Familiare/Panorama 1.3 Mirafiori (AF) | 131 A6.000 | | |
| 132 1.6 | -- | | |
| ARGENTA 1600 | 132 D.000 | | |
| FIORINO 900 | 100 GL.000 | | |
| PANDA 800 | -- | | |
| PANDA 950 | A 112 B1.054 | | |
| PANDA 950 4x4 | A 112 B1.054 | | |

SEAT

| Model | Engine | First Year | Last Year |
| --- | --- | --- | --- |
| FURA 0.9 | -- | | |
| PANDA 34 850 | -- | | |
| PANDA 35 850 | -- | | |

Facet part number 0.0626

Photo courtesy of Facet.

0.25µF

18 mm

Ø

31.5 mm

GUZZI
14 715 433

MOTO GUZZI (I)

| Model | Engine | First Year | Last Year |
| --- | --- | --- | --- |
| 1000 SP | -- | | on |
| 850 Le Mans III | -- | | on |
| 850 T3 California | -- | | on |
| 850 T3, T4 | -- | | on |
| V1000 California II | -- | | on |
| V1000 I-Convert | -- | | on |
| V1000 G5 | -- | | on |

Facet part number 0.0627

Photo courtesy of Facet.

0.25µF

18 mm

Ø

25 mm

Fiat
9938268

Magneti Marelli
CE 39 P

FIAT

| Model | Engine | First Year | Last Year |
| --- | --- | --- | --- |
| REGATA 70 1.3 | 138 B2.000 | | |
| REGATA 70 1.3 | 149 A3.000 | | |
| REGATA 85 1.6 | 149 A.000 | | |
| REGATA Weekend 70 1.3 | 138 B2.000 | | |
| UNO 60 1.1 SX | -- | | |

Facet part number 0.0628

Photo courtesy of Facet.

0.25µF

18 mm

Ø

25 mm

Fiat
9938269

Magneti Marelli
CE 39 R

SEAT
SE 141914.007A

FIAT

| Model | Engine | First Year | Last Year |
| --- | --- | --- | --- |
| 126 700 | 126 A2.000, 126 A2.048 | | |
| PANDA 750 (141AI) | 141 B.000 | | |
| PANDA 900 | 100 GL3.000 | | |
| PANDA 900 CL | 146 A.048 | | |
| PANDA 900 CL | 146 A.048 | | |
| PANDA Van 750 | 141 B.000 | | |
| UNO 45 0.9 | 146 A.000 | | |
| UNO 45 0.9 Trend | 146 A.048 | | |

FSO

| Model | Engine | First Year | Last Year |
| --- | --- | --- | --- |
| 126P 0.6 | -- | | |

SEAT

| Model | Engine | First Year | Last Year |
| --- | --- | --- | --- |
| IBIZA I 0.9 | 146 A 000 | | |
| IBIZA I 0.9 | 146 A 000 | | |
| MARBELLA 0.9 | 09 NCA | | |
| MARBELLA Furgonato 0.9 | 09 NCA | | |
| TERRA 0.9 | 09 NCA | | |

Facet part number 0.0630

Photo courtesy of Facet.

0.25µF

18 mm

Ø

25 mm

Magneti Marelli
CE 39 S

RENAULT
77 01 030 507

RENAULT

| Model | Engine | First Year | Last Year |
| --- | --- | --- | --- |
| 11 1.1 (B/C371) | C1E 720 | | |
| 4 1.1 (1128, S128) | 688 712 | | |
| 9 1.1 (L421) | C1E 715 | | |

Facet part number 0.0631

Photo courtesy of Facet.

0.25µF

18 mm

Ø

25 mm

Magneti Marelli
561 811 87

RENAULT
77 01 031 990

RENAULT

| Model | Engine | First Year | Last Year |
| --- | --- | --- | --- |
| 11 1.7 (B/C376) | F2N 700 | | |

Facet part number 0.0633

Photo courtesy of Facet.

0.25µF

18 mm

Ø

25 mm

Fiat
9940570

Magneti Marelli
CE 39 T

FIAT

| Model | Engine | First Year | Last Year |
| --- | --- | --- | --- |
| PANDA 1000 | 156 A2.000 | | on |
| PANDA 1000 | 156 A2.000 | | |
| PANDA 1000 CLX | 156 A2.000 | | on |
| PANDA 1000 Fire | 156 A2.000 | | |
| PANDA 750 (141AA) | 156 A4.000 | | |

Facet part number 0.0699/2

Photo courtesy of Facet.

0.25µF

18 mm

Ø

35 mm

SKODA
113-911 060

SKODA

| Model | Engine | First Year | Last Year |
| --- | --- | --- | --- |
| 105,120 1.0 | 33* | | |
| 105,120 1.0 105 S,L | 742,10 | | |
| 105,120 1.0 105 S,L | 742,10 | | |
| 105,120 1.0 105 S,L,GL | 742,10 | | |
| 105,120 1.0 105 S,L,LS | 742,10 | | |
| 105,120 1.2 | 37* | | |
| 105,120 1.2 | 55* | | |
| 105,120 1.2 120 GLS | -- | | |
| 105,120 1.2 120 L | -- | | |
| 105,120 1.2 120 L | 742,12 | | |
| 105,120 1.2 120 L | 742,12 | | |
| 105,120 1.2 120 LS | 742,12 X | | |
| 130 1.3 | 43* | | |
| 135 1.3 | 43* | | |
| 136 1.3 | 46* | | |

Facet part number 0.0856

Photo courtesy of Facet.

0.25µF

17 mm

Ø

38.5 mm

PEUGEOT
5948.04

SEV
430 01203

RENAULT

| Model | Engine | First Year | Last Year |
| --- | --- | --- | --- |
| 4 0.8 (1123) | 800 705 | | |

Facet part number 0.0912

Photo courtesy of Facet.

0.25µF

18 mm

Ø

31.5 mm

LADA
2101-3706400

LADA

| Model | Engine | First Year | Last Year |
| --- | --- | --- | --- |
| Lada 1.2 | -- | | on |
| Lada 1.3 | -- | | on |
| Lada 1.5 | -- | | on |
| NIVA 1600 | BA3 2121 | | |
| NIVA 1600 | BA3 2121 | | |