View all Loop frame wiring harnesses for sale
Spot lights
Part number:
SPOT-LIGHTS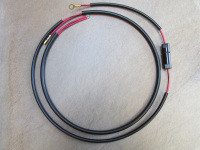 Spot lights
Moto Guzzi never made a spot light. For police models, they provided brackets and wiring to support spot lights (or other front lights), but left it up to the individual police departments to fit their own spot lights. For civilian models, there was never any factory means of powering spot lights.
This harness is intended for use on civilian models and provides fused power directly from the battery to a switch, then from the switch to a 3 connection female spade connector. The leads from each spot light can be connected to the 3 connection female spade connector. Heavy gauge wire is used to provide ample power to the spot lights. Fuse holder accepts an original style torpedo shaped fuse and is nearly identical to the separate fuse holder Moto Guzzi used on the police models.
My personal preference is to fit a police style push-pull switch to the left handlebar, mirroring the bracket and location of the starter button on the right handlebar switch.